Employees at Pilgrim's UK in Bromborough celebrated achieving their English for Speakers of Other Languages (ESOL) qualifications, delivered onsite by Wirral Met College.
Teaching at their work-based training academy, employees have been able to learn around their work schedules, with lessons structured to coincide with shift patterns.
This unique partnership between Wirral Met College and Pilgrim's UK has worked in collaboration to design a bespoke curriculum catered to the needs of students and workers. Skills acquired during these sessions have helped throughout the working environment, from factory floor communication to interacting with departments such as Human Resources.
Wirral Met College are the first college to provide ESOL lessons to employees at the Pilgrim's UK site in Bromborough, delivering Pre-Entry and Entry Level 2 ESOL courses.
The partnership has also extended to develop apprenticeships and deliver British Sign Language courses to mark Deaf Awareness Week.
Pilgrim's UK is Britain's biggest higher welfare pig farmer and producer of sustainably produced quality pork & lamb products, supplying retail partners such as Waitrose and Coop. The company operates across 12 manufacturing sites in the UK, with its Wirral site in Bromborough supporting over 400 jobs.
Pilgrim's UK Training Manager, Ula Byrd said "We are delighted to be working in partnership with Wirral Met College to deliver ESOL to our colleagues. They have delivered ESOL training on site here at Bromborough to help support the business and individuals needs and it has been a great success."
"Collaborating with Wirral Met has been a real pleasure. They have been so flexible, accommodating, and supportive from the initial stages of discussing the possibility of the course all the way through to the final exams. We are very proud of our 8 colleagues who have passed ESOL Entry 2 exam which will support them not only in their work but also in their day to day life outside of the business."
"We would highly recommend the ESOL department at Wirral Met College to any local business who are looking to support their colleagues and we are looking forward to starting new classes in September."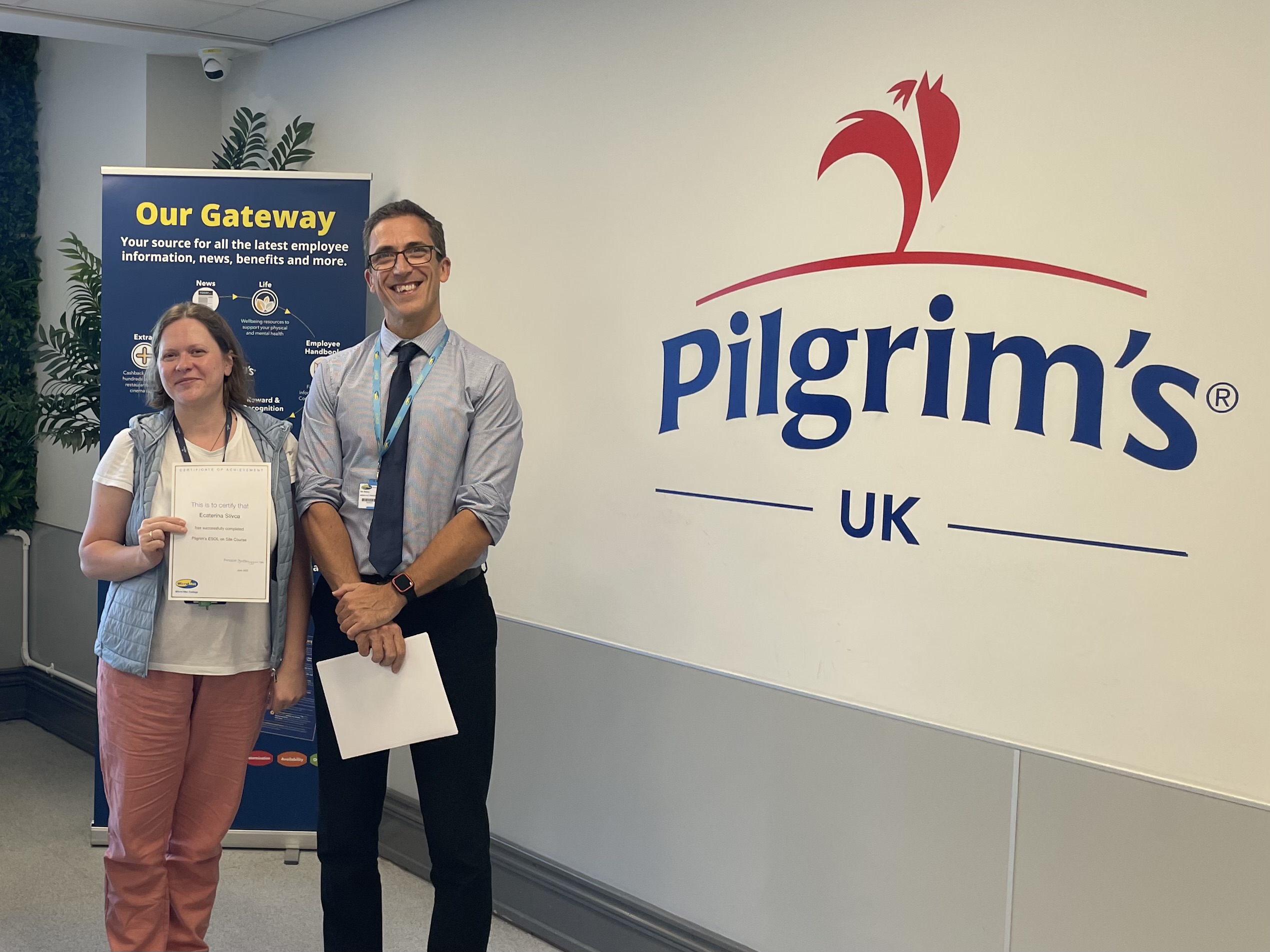 Assistant Principal of Wirral Met College, Ste Bailey, said "This has been a hugely successful partnership between Pilgrim's UKand Wirral Met. Our ESOL team worked closely with Pilgrim's UK to develop a bespoke curriculum that focuses on the specific English skills that students need for their jobs."
"The students' hard work and dedication, combined with outstanding teaching, meant that they were able to go beyond this and achieve accredited qualifications. We are very proud of their achievements and look forward to continuing to work together with Pilgrim's."
Wirral Met College is proud to be an inclusive college, serving over 600 ESOL students, including 200 refugees and asylum seekers. Wirral Met also holds a College of Sanctuary status, an award which recognises colleges which have gone above and beyond to support refugees and people seeking asylum.
If you are based in the Liverpool City Region and interested in providing work-based training, contact Employer Services at Wirral Met on 0151 551 7610 or email This email address is being protected from spambots. You need JavaScript enabled to view it.
For more information about ESOL (English for Speakers of Other Languages) courses at Wirral Met, visit https://www.wmc.ac.uk/courses/english-for-speakers-of-other-languages