Wirral Met College Football Development under 19's squad recently won the Merseyside Schools & Colleges Bill Murphy Premier Cup after an excellent 4-2 win against LFC Foundation College. After a disappointing start to the game, Wirral Met found themselves a goal behind at half time after some poor defending from our back four. Changes were made at half time, most notably with Sean Boyd and Leon Betker coming on to add some energy to the wide areas and within a few minutes, left back Adam Ormond had equalised with a tap in on the back post after a great pass by Nathan Morton. Wirral Met then managed to gain some momentum in the game which resulted with a fantastic finish from the edge of the area from leading goalscorer Elliot Simpson. Fellow strike partner Kieran Donohue, who never stopped running all day, then added a third after pressuring the goalkeeper into a mistake and calmly finishing into an empty net to make it 3-1.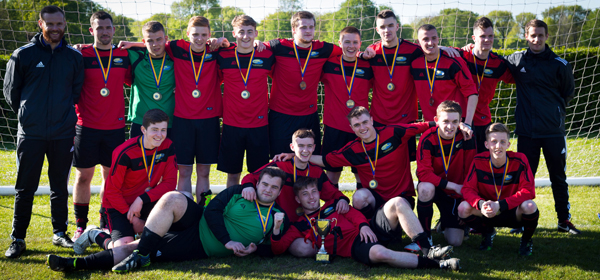 LFC responded with a second to make it 3-2 after another cross and again our defenders were unable to deal with it. LFC were then awarded a contraversial penalty after midfielder Jack Evans appeared to play the ball. It didn't matter because goalkeeper Jack Fitzmaurice guessed right diving to the bottom left corner to save and pounce on the rebound. Within 45 seconds of the save, Wirral Met increased their lead after Ormond found himself up for a set piece and slotted home to make it 4-2 and secure the cup.
Man of the match was Aaron Perryman who worked tirelesly, often doing other players jobs, not putting a foot wrong and using the ball well throughout the game.
The cup win comes after a culmination of two seasons' hard work and determination from both players and coaching staff. The college narrowly missed out on the league title last season by only 2 points in their first season and have gone on to build on that success this season by reaching the Wirral Cup semi final and achieveing the college's first trophy, overcoming competition from other colleges and schools across Merseyside.
The Wirral Met squad is ran in alongside the college's football development courses where students can opt to study Level 2 VTCT Activity Leadership (Football Development) or Level 3 BTEC Sport (Football Development); they will train daily and represent one of the two football squads as well as learning how to progress to a career in sport and football coaching.